Pirate Hat Halloween Costume
Our Pirate Hat is one of the hottest selling items this year. You can look just like Johnny Depp who starred in the Pirates of the Caribbean movie! Perfect for theater plays or a great Halloween costume this year. Just add a beard and sword and you are all set!
Have us ship the Pirate Hat to anyone you wish
We would be more than happy to ship the Pirate hat to anyone you would like. We will leave all paperwork and receipts out of the box so you have nothing to worry about! Perfect Halloween costume gift idea for anyone who lives near or far away.
Planning a Birthday party?
Need to spice up your kid's next Birthday party? Try a fun pirate theme! Get them this cool pirate hat so they can get the most out of their next birthday party! All your kid's friends will be jealous seeing this cool hat at the next birthday party.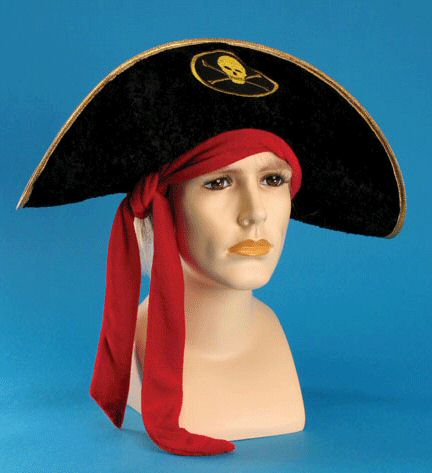 One of the Best Halloween Costumes you Can get for Kids or Adults
This is a great Halloween costume for any kid or adult. Bring out the kid in anyone with this fun hat. No matter what age they are, they will sure to be the star of the next Halloween party with our pirate hat!

Visa/Mastercard accepted
100% Secure Ordering
You'll never have to worry about your credit card information if you order from our sites.
Every time you complete an order form, your data is encrypted in a secure manner.
Security measures are in place to protect the loss, misuse and alteration of the
information you submit to our site.
Pirate Hat - PO Box 197 - Morrow, Ohio 45152