Witch Hat
The Witch Hat is the classic Halloween Costume. Just add some face paint and a black dress and your Halloween Costume is all set! Our Witch Hat size fits all. Made of flexible material which will mold around any size of your head.
The Witch Hat can Also be Used for Sunny Days
Our witch hat isnt just a great Halloween costume. Use the witch hat on hot sunny days to keep the sun out of your eyes. Made of lightweight material and a wide brim which works better than any baseball cap.
Perfect Gag Gift item for any Friend or Family Member
The witch hat will grab anyones attention instantly! Makes a great gag gift or just a fun hat to wear inside or out. Very flexible and lightweight so it makes a great stocking stuffer for Christmas.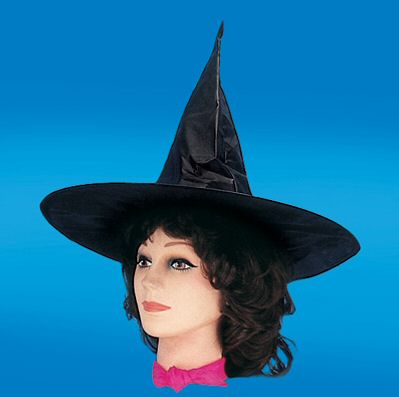 The Classic Halloween Costume
The witch hat is still the most popular and classic Halloween costume today. Perfect costume because of how fast and easy you can dress up. Hat, makeup, and broom, and you instantly have a fantastic looking Halloween costume.

Visa/Mastercard accepted
100% Secure Ordering
You'll never have to worry about your credit card information if you order from our sites.
Every time you complete an order form, your data is encrypted in a secure manner.
Security measures are in place to protect the loss, misuse and alteration of the
information you submit to our site.
Witch Hat - PO Box 197 - Morrow, Ohio 45152